Devilish book is coming back to Prague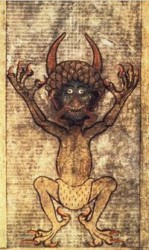 A modern room with a safe built especially for this event will soon have a new tenant. A famous book called the Devil´s bible, known worldwide as Codex Gigas, the most precious treasure of Swedish national library is coming to Prague for a limited time . It will be exposed in Klementinum since September till January.
It is one the most valued books in the world and is sometimes called a library in the book. This unique manuscript with giant proportions and about 800 years old is coming back to Prague after more than three centuries. This exhibition is expected to be as much frequented as the exhibition of crown jewels which is held only rarely at Prague castle.
The visitors coming in small groups will have the chance to see the book only for ten minutes. The book will be guarded on the route very carefully, the value of the book is incalculable and its origin reaches to the 13th century. In the room watched by many cameras will be created a special climate favourable for this medieval hand writing. The book will be opened on a page with an illustration of small devil who gave the name to the book. The other parts of the book can visitors see as digital images.
The famous picture of devil has got to the book according to a legend – the devil helped the monk with writing. The monk wasn´t able to write the book on time so he devoted his soul to the devil. Historians say that the book is a product of one author. This author probably spend on writing about 20 years. The book includes the list of sins, magical incantatory formulas, calendar and many other interesting information.
The exhibition is starting on September 20 in Klementinum which is situated between the Old Town Square and the Charles bridge. The historic building of Klementinum, the former monastery is currently the seat of Czech national library.
What happened on August 21, 1968? Sazka Arena – the most modern multipurpose arena in the world