Where to go to the party in Prague?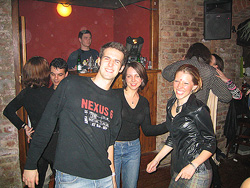 After the sunset, it´s the time to explore another side of Prague. Prague is not only about the Castle, Charles Bridge, Krizik's fountain, old churches and museums. It is a pulsuting city with entertainment for everyone.
If you find yourself near the Old Town Square, feeling thirsty and music-hungry, there is a great bar nearby that you have to visit! It´s furnished all in Hawaii style, which is great especially during those rainy days. Its wooden interior and dimmed lights give the place a warm and relaxed sense. It is really romantic too. The bar is called Aloha. Sounds great, doesn´t it?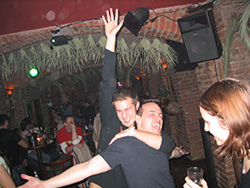 Aloha Wave Lounge, as the full name reads, is a stylish café, restaurant and cocktail lounge, ranging from thirties to the sixties. The food there is really exotic, but so are the prices for it. Nevertheless, the drinks are for reasonable prices and I won´t exaggerate if I say they make the best cocktails there maybe in the whole Prague. And trust me, they offer a tuns of cocktails! Just to name some of them: Daiquiri, Pina Colada, Mojito, Caipirinha, Bloody Mary and so on.
After 10 p.m. there is either a live DJ or a band, and on the dance floor you can dance the night away! They play R'n'B, Pop, Rock, Latino and on Wednesdays and Saturdays they play 80s and 90s.
Above all, there is no entrance fee, which is great, and Happy Hours are from 6 p.m. to 9 p.m. Just one last thing – the address – it´s Dusni 11, Prague 1 (two blocks from Parizska street, 5 minutes walk from green subway station Staromestska).
It´s better not to risk the "Black Ride" in Prague public transport Czech Movies with English subtitles in Prague MAT cinema