The Czech Republic is packed with beer halls, pubs anf of course the necesarry breweries to supply them all. As a speciality, some restaurants or pubs have their own brewery. It is also common for one restaurant or beer hall to be supplied by one specific brewery, whose name is usually displayed at the entry.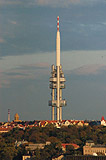 If you really want to have a taste of the genuine Czech beer hall ("pravá česká hospoda") we recommend a trip to Žižkov (read "Zheezhkov"), a district of Prague, at just 10 minutes by tram from the centre.
Zizov is said to be the neighbourhood with the highest density of pubs and beer halls per square metre in the world (!!!!) so, for those more adventurous of you it can be a really nice experience. Since we you are already in Prague, or plan to be, why not take a look at the genuine Czech pub, not only at the fancy restaurants and terraces in the centre.