It´s better not to risk the "Black Ride" in Prague public transport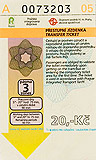 As tourists are usually mad about Prague, they – unfortunately quite often – tend to forget to buy a ticket for their ride. But this pettiness can, at the end, cost you a fortune!
If you are lucky enough to meet a controller when travelling with public transportation without a valid ticket, you can get a fine amounting to 950,- CZK! For that price you could buy yourself about 40 pints of beer!! If you pay the fine off hand, it will be reduced to 400,- CZK, which is definitely better than the first option, but still is quite a money.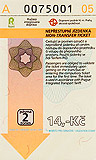 So why to risk the unpleasant acquaintance with the controller? One ticket for an adult (non transfer) costs only 14,- CZK and is valid for 20 minutes. For a ride that last up to 75 minutes (on weekends and past 8 p.m. it´s 90 minutes) you pay 20,- CZK. That´s not even one beer!
Now, tell me, isn´t it better to pay 20,- CZK and enjoy the ride with the bus, tram or subway than to be worried all the time when on the public transportation and risk the penalization?
And where do you buy the tickets? You can buy the tickets by the bus driver for a slightly higher price. However, you can´t buy them in trams or when in the subway. So what to do? You can find them nearly in all stores where they sell cigarettes and newspapers. They are called "trafika" over here. Or you can buy them near bus and tram´s stations, and in all undergrounds – look for yellow boxes. You just choose the ticket you would like, press the button as many times as how many tickets you want, and then put in corresponding amount of money.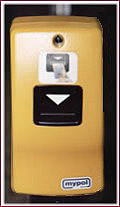 When on the tram, bus or when entering the subway station, don´t forget to mark the ticket! Holding a ticket that is not marked is the same as travelling without one!! So don´t fail to put the ticket into the little yellow box inside the bus, tram or when entering the metro station. The yellow box prints the exact time and from that time on you can travel anywhere for 20, 75 or 90 minutes, depending on the ticket.
If you assume you will use the public transportation a lot or will stay for more days, it´s worth it to get a ticket that is valid for the whole day (24 hours), 3, 7 or 15 days, a month or more. Those "special" tickets you can find at Information Centres (Informacni stredisko), e.g. at metro station Muzeum (line A and C) and Mustek (line B).
It is really smarter to buy yourself a ticket and mark it right after you get on a public transportation, so you can enjoy the holiday at full.
Summer sales at the biggest mall in Prague Where to go to the party in Prague?