Situated in the Old Count's Chambers of Prague Castle, in the vicinity of the Golden Lane, the Prague Toy Museum is said to be the second largest museum of this kind in the world.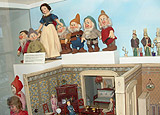 In the seven exhibition rooms, that takes up not less than two floors are collected toys from all over the world, starting from Greek ancient times and ending with most modern Barbie exemplars.
You will get the chance to see the unique collection of Ivan Steiger, the film maker and cartoonist, which concentrates mainly legendary toys made out of wood and tin.
Also present will be of course Czech and Bohemian traditional toys, toy cars, and motorcycles, air planes and toy train-mechanisms including the oldest Märklin engines and accessories.
Admission fee:
60 CZK for adults, students and retired.
children under 15 enter free.
Opening hours:
Address:
Prague Toy Museum
Jirská 4, Prague 1 (in the Prague Castle premises)
Phone: +420 243 722 94 / +420 243 711 11