Spejbl and his son Hurvinek are two Czech legendary marionettes that have been amusing children in over than 30 countries since 1920s.
Their present features date from 1964 when a very talented artist and designer gave them a less grotesque appearance.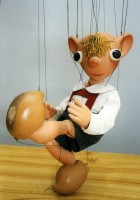 The classical Spejbl& Hurvinek puppets range from 55-76cm tall (Spejbl) and 46-56 cm tall (Hurvinek) and can weight between 1,60-2,80 Kg (Spejbl) and 1,05-1,95 Kg (Hurvinek).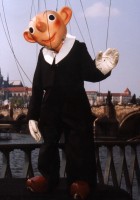 Theatre of Spejbl and Hurvínek
Dejvická street 38
160 00 Prague 6 – Dejvice
Phone lines:
Theatre : +420 233 341 241
Sales Department – phone:/fax: +420 224 312 380
Box-office : +420 224 316 784
How to get there:
Underground stations: Dejvicka or Hradcanska on green A line
Trams No.:1; 5; 8; 18; 25; 26 will take you to Hradcanska metro station.
Trams No.: 2; 5; 25; 26 at Vítezné námestí (metro Dejvická)
Another tip:
Marionette Theatre
Dejvice Theatre (Dejvicke Divadlo)
Zelena 15a, Prague 6
Phone: +420 231 123 65
Phone: +420 231 124 30