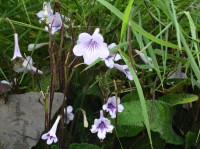 In the vicinity of the Prague Zoo you will find the Botanical Gardens (Botanicka Zahrada) with its spectacular Greenhouse Fata Morgana and playgrounds especially prepared for children and for those who can still appreciate some good old walking around in the blooming nature.
The greenhouse and outside exhibition are open all year round (greenhouse closed on Mondays) from 9.00 – 16.00 from November to February, 9.00 – 17.00 in March and October, 9.00 – 18.00 in April and 9.00 – 19.00 from May to September.
Getting there:
Getting to the Botanical Gardens is practically the same as getting to the ZOO (they are neighbours).
The easiest way is again to use the public transport: from "Nadrazi Holesovice" (metro red C line and tram station) take the Bus No 112 to the last stop ("Botanicka Zahrada") and then follow the signs (about 5 min on foot).