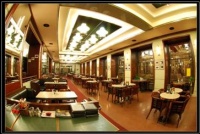 Slavia is a traditional café in the heart of Prague, serving Czech, but also international cuisine, offering salads, fish and meat specials, which are possible to order, with breakfast menu at 8 am already – at the time the Café opens. Of course – their coffee, drinks and cocktails are only the best of the kind.
The place is surrounded with history – The National Theatre across the street, Charles Bridge about 5 minutes walk, and the shop windows are overlooking the Prague Castle at the horizon. You can enjoy all these, while having a nice cup of tea or a glass of wine. The music in the space is provided by a professional pianist, who plays live everyday from 17 to 23, a quite rare sight nowadays, don't you think?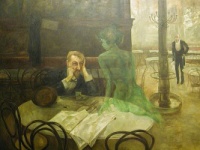 The café is filled with its colorful history, and its position in Prague is literary exclusive – they can please even the most demanding customers. After the National Theatre was opened, as it lies on the opposite side of the street, it became a also a place where actors and directors meet and often also sign the contracts for the next years.
The setting and history is not a thing you could eat or drink, however it forms an inseparable part; Slavia is really something which attracts many famous characters from Czech culture, and it always did. They are number one at Narodni Trida, and not only by number. The setting on the bank of Vltava River ables to watch Czech history passing by. From the very place could have been watched in 1868 placing of the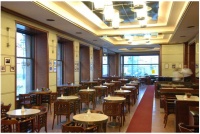 founding stone to the National Theatre, 1937 the funeral march of T.G. Masaryk was passing by, in 1989 the students parade of starting Velvet Revolution went around. When the ex-president Vaclav Havel wants to make a big party, Kavarna Slavia often provides him the setting.
The list of guests who come to have their coffee is like "Who is Who" of personalities from all the spheres of life. Also absinthe belongs to the place, where it appeared as a literary drink from Cafés in Paris, where the drunkard Verlaine made it famous. For its colour, it was called 'the green fairy' and for its effects 'green poison'. It was banned later, and staid illegal until recent past. Now it is served again, but without its poison –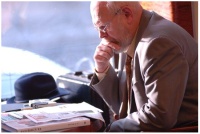 more like a curiosity, because it lost its inspirational power, which can't do without the poisonous drop.
On the picture by Oliva, there is really a poisonous green, transparent naked woman, like a muse breathing out clouds of alcohol and poetical ideas. The picture called 'Absinthe Drinker' origins in Café Slavia.
We once had their cappuccino and delicious hot apple strudel in the afternoon and enjoyed the dignified atmosphere the place holds. Th experience was simply beautiful.
Smetanovo nabrezi 2
Praha 1
110 00
tel: +420 224 218 493