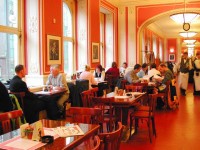 Café Louvre
Address: Narodni Trida 22, Prague 1
Founded in 1902, Restored in 1990's. Renowned for its billiard room.
Café Imperial
Address: Na Porici 15, Prague 1
The Café has unique interiors in Art deco style.
Grand Café Orient
Address: Ovocny trh 19, Prague 1
The enterprise was restored in 1980's. Located in the Dum u Cerne Matky Bozi, it is the only enterprise of the world in cubist interior.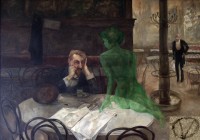 Obecni Dum
Address: Namesti Republiky 5, Prague 1
The original Art Noveau Cafeteria belongs to the most beautiful prague enterprises of all times. Seen in many movies.
Starbucks
Address: Malostranske Namesti, Prague 1
The first cafeteria was opened in 1874 there, at that time called Radecky. The baroque space is now filled with Prague brach of Starbuck.
Slavia
Address: Smetanovo nábrezi 2, Prague 1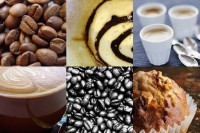 The most famous prague cafeteria. The marble tables there has been a meeting point of artists since 1881.
Café Montmarte
Address: Retezova 7, Prague 1
Famous night place, where famous bohemians used to met. Rebuild in 1990's
Café Arco
Address: Dlazdena 6, Prague 1
The café, which hosted Jewish art elite during the First Republic.