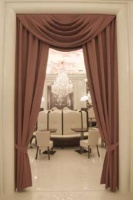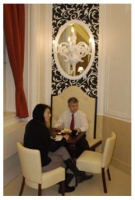 The Legendary Prague sweet shop Mysak Reopened
Another legend of the First Republic gastronomy returns. The Mysak Gallery is a house of sweet delight with the air of times long gone, still very much in demand. After Erhartova cukrarna on Letna and Paukert delicatessen on Narodni trida it is another Café with sweets, served with style.
The original premise met its fate, when the building was in a very bad shape in 1990s it finally collapsed in 2006. At the place grown a modern building. How to re-make a First Republic sweetshop in a 21st century postmodern house? It took almost three years, but now the shop opens in a very exact copy of the historic space.
What stayed original? The doors, but especially the stucco reliefs were carefully and professionally removed and renovated, after which they returned to the originally place. The mosaics on the floor are original, the marble staircase and wooden alcoves. One would say it is a masterpiece – the place seems not to lost its spirit.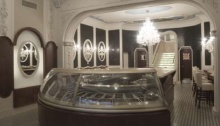 The equipment is new, however stylishly made in retro design, partly in Italy, partly in the Czech Republic. But they have all been re-made according to the pictures, partly because there are new standards of dining, partly because the originals were stolen and now are at unknown address.
The new Owners said about the premise: After many years break, the most famous Cukrarna (sweet shop) of the First Republic was opened again. The cakes made there were tried for example by actors Oldrich Novy and Adina Mandlova, or the president T.G.Masaryk. Witnesses nostalgically recall especially the eminent Karamel cup, which is sold again.
Mysak Gallery, the sweet shop can be found right next to the Wenceslas Square, In Vodickova Street 31, Prague 1.