Kinský Palace (Palác Kinských)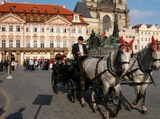 Permanent exhibition: Landscape in Czech Art from 17th – 20th centuries:
Czech Baroque landscape (Karel Skréta, Jan Rudolf Bys, Jan Jakub and Frantisek Antonín Hartmann),
19th century landscape (the landscapist movement lead by Max Haushofer, Antonín Chittussi, Antonín Slavícek, Julius Marák),
20th century landscape (Pravoslav Kotík, Bedrich Piskac, Stanislav Kolíbal, Milos Sejn).
As a bonus visitors can also see photographs and landscapes from the 19th – 20th century Czech drawings and graphic works.
Graphic Cabinet:
Landscape in the works of Antonín (1784-1843) and Josef Mánes (1820-1871). Until August 2006.
Address: Staroměstské náměstí 12, Prague 1
Phone: +420 224 810 758
How to get there: metro A/B – Mustek or metro green line A – Staromestská.
Opening hours: 10 am – 6 pm, closed on Mondays
Web: www.ngprague.cz
Read more about Kinsky Palace in the sightseeing section