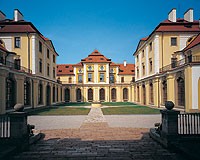 The Zbraslav Chateau (Zámek Zbraslav)is an Asian Art (China, Japan, India, Southeast Asia, Tibet, Near East). Exhibition, Oriental Collection of the National Gallery.
Address: The Zbraslav Chateau, Prague 5 – Zbraslav, Bartonova 2.
Opening hours: daily except Mondays 10 am – 6 pm
How to get there: Metro yellow line B to Smíchovské nádrazí, then bus No. 129, 241, 243, 255, 314, 318 or 390 to Zbraslavské námesti. As an alternative, you can take bus No. 165 from Jizní Mesto and/or Radotín.
Admission:
Full ticket: 80 CZK
Reduced ticket: 40 CZK
Family ticket: 120 CZK
Exhibitions, public services:
Ground floor exhibition: Japanese Art exhibition, refectory, Rainer Kreissl`s collection.
Exhibition: Landscape, birds and flowers in 19th century Japanese painting and graphic art. Until 11 June.
Box office and store. Japanese tearoom is now also accessible for visitors who do not wish to see the Asian Art Exhibit.
Permanent exhibitions:
Ground floor:Japanese art techniques and crafts, primarily ceramics, laquerware, weaponry and metal utensils.
1st floor: Chinese Buddhist art from ancient times: tomb sculptures, ceramics
2nd floor: Indian art, Southeast Asian art, Tibetan art, Islamic art, the Royal Hall.