Rent a paddle boat on the Vltava River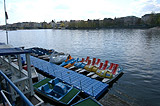 Without any doubt, the nicest view of the Prague Castle is from the river. If you don´t feel like swimming, you can very easily rent a boat and comfortably admire the fantastic castle complex together with the Charles Bridge, National Theatre and others.
It´s a really romantic thing to do! But I would not recommend it only to lovers. I would recommend it to everyone who wants to take a break from walking around the city but at the same time wants to do something new and exciting.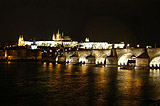 You can rent a pedal-boat or a rowing boat, whatever you prefer. There are even some boats looking like swan for a rent. For a 70,- CZK the boat is all yours and you can fit in 4 adults. For 60 minutes you can cruise round Prague´s islands and enjoy the magical views. When on the Vltava river, you have the chance to wonder at the unknown angles of the truly unique architectural complex. It is worth it!
And where do you find those rent-a-boat places? They are on the island Zofin near National Theatre or by the Charles Bridge. They are open till 10 p.m., so you can also enjoy night views of Prague.
Enjoy your cruise!
Czech Movies with English subtitles in Prague MAT cinema Whom to ask for a help in streets of Prague?