50 Cent in T-Mobile arena in Prague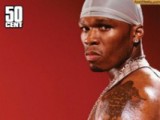 Current number two of American rap is comming to the Czech Republic within the scope of his European tour (he didn't cancel his tour, just moved it for two months). Tickets for his performance which is going to take place on 21st November in Prague T-mobile arena are on sale.
Rapper 50 Cent whose real name is Curtis James Jackson comes to Prague for the first time. He promotes his new album Curtis which competed at the beginning of September with Kanye West's album, Curtis' American competitor.
50 Cent comes from New York – Queens but has affinity for gangsta rap from the West Coast. It's no wonder, his mother was a dealer of cocaine and died when Curtis was still a child. However not a young rapper didn't avoid problems with law. In a half of 90's he was imprisoned because of selling crack and carrying weapons to school.
Then he began to assert himself at a scene of New York rap after his cooperation with producers Trackmaster.
In 2000 he almost fell a victim of violence. He was wounded by 9 mm pistol, but it only emphasized his position of controversial figure in New York scene.
However he is not only a gangster rapper, he also has catchy melodies what confirmed the last album Curtis. Mary J. Blige and Eminem are the guests on this album.
Tickets are from 790 to 990 CZK (26,3 – 33 €) and are available at the Ticketpro and Ticketportal chain outlets.
1 Comments for 50 Cent in T-Mobile arena in Prague
the show was absolutely great!!!
Harlem Gospel Choir in Prague State Opera Dolores O'Riordan in Prague