Dolores O'Riordan in Prague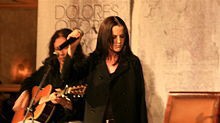 Dolores O'Riordan is back. The singer of the legendary band Cranberries is starting her European tour while her band is being at rest and is going to perform in Prague with her accompanying band on Monday 26 November 2007 in Prague Lucerna.
The Cranberries is one of the most world famous band and all their hits will be performed on the Dolores O'Riordan tour in Prague. O'Riordan's first solo album "Are You Listening?" was released on May 4, 2007 in the Republic of Ireland. The hit "Ordinary Day" was recorded in Prague and you can hear it at all music TV channels.
Dolores Eileen O'Riordan was born September 6th, 1971 as the youngest of seven children in Ballybricken, Limerick, Ireland. Her family was strict Catholic and she has a lot of respect for the good in the Catholic Church, but she doesn't go to church. In 1990 she joined "The Cranberry saw Us" and later its name was changed to Cranberries at her request. On July 18th, 1994 O'Riordan married Don Burton, the former tour manager of Duran Duran. Now she lives in Howth, County Dublin with her husband and their four children (one is from a previous relationship of Burton's).
If you come to her concert in Lucerna you will hear the Cranberries' best hits including Linger, Animal Instinct, Zombie, Salvation, When You Are Gone and also hits from her new album "Are you Listening? ".
Tickets are available at the Ticketpro chain outlets and they cost 800 CZK (26,6 €). You can also buy the tickets right before the concert for the price of 950 CZK (31,6 €).
50 Cent in T-Mobile arena in Prague Apocalyptica is comming to Prague