Experience Prague during the evening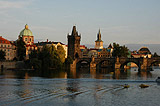 A beautiful historical city in the heart of Europe offers a wide range of activities that can be enjoyed after the sunset. You can enjoy your dinner in one of Prague's fabulous restaurants, have a drink in a bar near the Old Town Square and spend the night dancing in a fancy club. You can also enjoy the spectacular view of Prague's castle, National Theatre or Charles bridge while strolling in a historical district in Prague 1. An evening boat ride on Vltava river will become an unforgettable memory.
If you are into cultural life, Prague offers you a wide range of cultural events that are taking place in various theatres, movie theatres and concert halls. There are many theatres which provide its customers with great choice of performances such as operas, ballets, musicals or typical Czech plays. Black theatre is another popular form of evening amusement activity enjoyed especially by tourists. There are various black theatre scenes in the very centre of Prague.
Many local bands and international music stars choose Prague for the concerts. Prague is offering a wide spectrum of music played by bands in small pubs, cozy restaurants as well as large concerting halls. The most modern concert and event hall is called Sazka Arena. It was built in 2004 and since then many famous artists performed at this place. I will just mention few idols who did have a concert at this hall. Well-known names such as Shakira, David Guetta, Bob Dylan, Depeche Mode, Madonna and other world's icons performed at Sazka Arena.
As you can see, Prague has many things on offer in the evening hours. Now you can start your Prague's evening experience.
Aquadream – The Center of Water Rejoice The Gallus Market (Havelsky trh)