Aquadream – The Center of Water Rejoice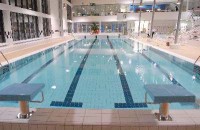 Aquapark Barrandov has a lot of ways for you to make sport or relax. For children there is a wading pool with a mini switchback and mini spouters. If you are courageous you can try the 115 metres long, red switchback. For those who have yet more courage there is the blue 62 metres long switchback, which you slip down on two-seat inflatable crafts. But if you only want to relax, try a whirlpool, massage jets and waterspouters. And when you are fed up with water, there are massage beds with massage air. For better swimmers there is wild river with artificial back flow. In the centre there you can also find a 25 metres long swimming pool.
Water temperature in the swimming pool is 27-28°C, in child's swimming pool is 32°C, in wild river is 29°C and in a whirlpool is 33°C. Air temperature is 30 – 32°C.
Opennig hours:
Openning hours from 3.9.2007 – change is noted
 
Monday
9:00 – 22:00
9:00 – 11:30*
Tuesday
6:00 – 22:00
6:00 – 11:30*
Wednesday
6:00 – 22:00
6:00 – 11:30*
Thursday
6:00 – 22:00
6:00 – 11:30*
Friday
6:00 – 22:00
6:00 – 11:30*
Saturday
8:00 – 22:00
Sunday
8:00 – 22:00
limited service – reduced entrance fees:
At the time of limited service, switchbacks, the part of the 25m swimming pool and waterspouters do not work. One lane in the 25m swimming pool, a whirlpool, wild river, a recreational pool, child's pool, 4 steam chests, massage beds and a water club are in service. Entrance fees are modified in a price list.
Price list
Entrance fees from 3.9.2007
 
100 min.
adults 129 CZK (4,3 €)
students, pensioners, ZTP 89 CZK (2,9 €)
children under 15 years 89 CZK (2,9 €)
190 min.
adults 240 CZK (8 €)
students, pensioners 160 CZK (5,3 €)
children under 15 years 160 CZK (5,3 €)
children under 3 years free
At the time of limited service, price is for all visitors 79 CZK (2.6 €) for 90 minutes. Additional charge for every 15 minutes over is 20 CZK (0,6 €).
You also have possibility to buy an advantageous season – ticket: 1,000 CZK (33,3 €) discount 10% , 3,000 CZK (100 €) discount 15% , 5,000 CZK (166,6 €) discount 20%.
Adress of Aquadream Centre is: Sidliste Barrandov, Wassermanova ulice, Praha 5 -Hlubocepy. Telephone number is: +420 251 550 259.
Restaurant Mirage Blue
Restaurant Mirage Blue is located in the area of aquacentre on the first floor with view of the swimming pool and switchbacks. This restaurant is opened not only for visitors of aquacentre, but also for the general public. Restaurant Mirage Blue offers amount of dishes from world cuisine and wide selection of fish, meat specialities, pasta and salads. At midday you can chose lunch from midday menu.
In the restaurant it is possible to use free internet. There is wi-fi net and you can use your own computer or computers which are available in restaurant. It is also possible to charter this restaurant or the whole aquacentre for some company events. If you take interest in it call: +420 251 681 085 or write on: aquapark@miragebar.cz.
Devil's Bible: Codex Gigas in Klementinum Experience Prague during the evening