Oasis in the middle of the city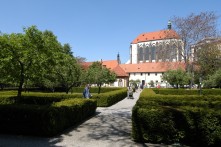 If you are tired of sightseeing and you don´t want to spend a break in a smoky restaurant and you don´t have time for a trip to the nature, you can go to the Frantiskanska garden. This green oasis is located in the heart of Prague, near the metro station Mustek. The garden has two entrances, one from the Mustek and the other from Jungmannovo square. If you step out of the underground at the station Mustek, you can visit the famous Prague arcade Svetozor. You can buy here various refreshment and take it away to the garden. You can find here well-known ice cream bar with various kinds of ice cream and fruit cocktails. So now when you are supplied enough with ice cream and hot dog, we can walk into the garden.
Its origin dates to the early medieval times. It was built in monastical gardens style and has the area of 0,6 ha. In the times of its rise mainly medicinal herbs and aromatic flowers were grown here.
The original character of the garden is now completely changed. The garden is connected with about two metres wide footpaths which are bordered by many seats. You can find here a couple of fountains with drinkable water where you can refresh in hot days. In the rear edge is a nice playground for children. The whole space of the garden is filled with well-built trees which are giving a pleasant shade. The green trees are completed with plenty of roses. When they are just blooming you feel like in the fairy tale about Sleeping Beauty.
The other interest of the garden is the stump of the oldest Prague tree – common yew. It is about 400 years old. The only disadvantage of the garden is a frequent visit rate and it is often very busy. Go there and you will find out why is it so!