Collector Fair in Prague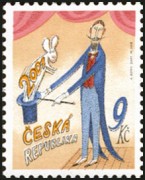 During September 14 and 16 the tenth international Collector Fair will be held at Prague´s Vystaviste. This fair is well known among other collector actions in Europe. You can find here mainly stamps, postcards, coins, telephone cards and also minerals and gemstones. This year 220 exhibitors from 35 countries will be presented. Philately will be strongly represented at the fair. Somebody could say that stamp collecting is mainly for old timers, but surveys say something else! Even in this modern times philately has its charm for many young people. And after every collectors' event the number of them goes up.
Together with important Czech collectors and sellers also firms from Germany, Swiss, Austria, Argentina, Great Britain and many other countries will introduce themselves. Post offices have prepared especially for the fair occasional stamps and you will have the chance to have your letter marked with special rubber stamp. The small exhibition lent by British post museum in London will be also amazing.
The numismatics, which can be also a profitable investment, will offer a wide range of coins from ancient Greece to current gold facing. The coins collecting is increasing mainly due to implementing of Euro, because the collectors like to complete their collections with new coins from European union countries. The Czech numismatic society has prepared an interesting exhibition of Czech coins from medieval times till now.
Minerals and gemstones will be also widely represented. An amethyst geode from Brazil or desert rose from China will surely attract every visitor. You can buy here also necklaces, bracelets or medicinal stones from all fields in the world. The interesting supplement of this section will be the exhibition called Giants with new discoveries of minerals weighing over 70 kg. This fair is intended for public visitors and you won´t regret going there. To get there take a tram from metro station Nadrazi Holesovice on line C and then just dive into the world of stamps, coins and minerals.
Oasis in the middle of the city Legends of the Charles Bridge – Jan Nepomucky