Planetarium Prague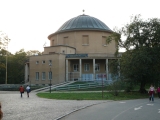 Do you like stars? Do you like looking up to the sky and watching constellations? But you are disappointed because you see only cluster of stars and do not recognize single constellation. I think it is time to set out on a trip to planetarium.
Planetarium Prague in Stromovka was opened on 20 November 1960. Since 1979 it has belonged to the "Observatory and Planetarium of Prague". It is the biggest planetarium in the Czech Republic and one of the biggest planetariums in the world. You can see there a large circular hall for 210 people. An artificial sky is 15 metres high and the projection screen is the biggest in the Czech Republic – 843 sq.m. This hall is equiped with modern technology including the most modern laser systems.
Most of their shows are in Czech version, but they offer in English version: "Astrology and Alchemy in the Court of Rudolph II." and "The Night Sky". Under the reign of Rudolph II. Prague was the centre of science and art. People believed in power of stars, magic and philosophers' stone. You will see how alchemists worked and how composed horoscope for the Emperor. In "The Night Sky" you will see the most interesting constellations which you can watch by naked eye. You can look forward to laser effects. If you want some more informations and reservations contact the planetarium at www.planetarium.cz.
Story about Petrin observatory tower in Prague Oasis in the middle of the city