3 in 1 with Troja card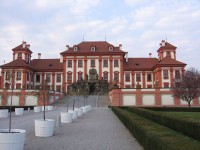 The city part Troja is away from the Prague centre offering a large amount of historical attractions and travel tips. But you can find here three objects, which are worth seeing during your stay in Prague. These are the Botanic Gardens, the Zoo and Troja Castle. You can spend a whole day visiting each of these places, but it is possible to merge all visits into one with Troja card. It is a join ticket for all three places during the whole season.
It is sold since April and its validity lasts till the end of September. You can buy it in cash boxes of all the three objects and
also in the City Gallery of Prague
. The entrance fees are naturally advantaged, you will pay much less for the card than for the three admissions individually. The entrance fee costs 200 CZK for adults, 100 CZK for children and 500 CZK for families with two children.
Let´s describe shortly the three objects you can visit. The Prague Zoo is the most frequented zoo in the Czech republic and welcomes more than one million visitors every year. It is situated on a 60 hectare area in a valley, which is geologically very interesting due to rocks, grass fields, woods and water sheets. Visitors can see here more than five thousand animals of 500 species.
Now we move from the animals to the flowers. Local Botanic Gardens are charming and full of aromas. They are located high above the city so you can find here many places with beautiful panoramas. It is possible to walk outside in the gardens or go into the tropic glasshouse Fata Morgana.
The last invitation of the triple card is the Troja castle. It is build in typical Czech Baroque style. Around the castle is a beautiful french garden. Inside the castle you can see a permanent exposition about the history of the building, then the collection of historical dog and horse paintings from the aristocratic mansions.
These three places are real aces and it is worth seeing each attraction separately in one day. The best way how to get there is by the bus no. 112 from the metro station Nadrazi Holesovice on line C.
The Summer Shakespeare Festival 2007 Charles University in Prague