Memorial of the Victims of Communism in Prague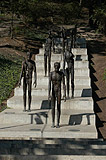 Maybe you have noticed memorial wreaths when walking around Petrin Hill in Prague lately. They are laid in front of the Memorial of the Victims of Communism. It is a truly magnificent memorial. A sad one, though.
It is a modern memorial, from the year 2002. It contains seven "phases" of a man living in a totalitarian state – from the first statue being a full man, up to the last statue where only a part of him remains. This evaporation represents the gradual physical and psychical destruction of a man who is ruled by any undemocratic regime. The man disappears due to censorship, secret police, no freedom of thoughts and expressions etc.
On huge stairs leading to the statues you can read a line saying the terrible truth: during the years 1948 to 1989, 205 486 people in the back-then Czechoslovakia were found guilty for political reasons, 248 were executed, 4 500 died in prisons, 327 died when trying to run away from the country and 170 938 people emigrated. I think there is even an English version of it on the left side of the memorial.
The memorial is visible all the way from the National Theater although it is located on the other side of the Vltava river. You can reach it by taking trams 6, 9, 12, 20, 22, 23. Station Ujezd.
Summer Holidays in Prague – Pay Attention Commemoration Day of victims of Communism