Museum that you will love!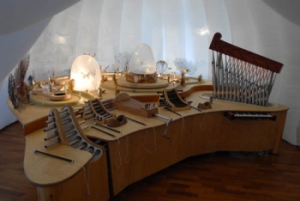 Are you one of those who do not really like visiting museums? Is it boring for you? You have to be silent, serious, and, hey, don't touch anything!!!! Well, forget about museums like that! There is a fun interactive exhibition right now running in Czech Museum of Music. It is called Orbis Pictus and it is nothing like regular museums!!
The name of the exhibition may help you to see the point of this exhibition. Orbis Pictus, which can be translated as World explained in pictures, was a textbook written by Czech thinker, philosopher and educator Jan Amos Komensky in 17th century. What is so special about this book is that it was written specially for children and is considered to be the first picture book for children.
Komensky was well known for his ideas about educating children – he thought that teachers should use audio-visual techniques in the classroom. Nothing new, you may say, but back then it was revolutionary idea!
The exhibition Orbis Pictus takes many of Komensky's ideas. Visitors can not only touch but are also invited to participate on playing the musical instruments!! And it is to say that the musical instruments are rather unusual, such as the water organ in the central part of the exhibition.
Every day, visitors turn this museum into one great symphonic orchestra. Apart from sounds, most of the instruments can also produce colors, lights and shadows!! This exhibition will be loved by any child but it is well-suited for the whole family.
The museum is open daily from 10am to 6pm. From 6:30pm there is sometimes an additional musical program for everybody with a valid ticket for the exhibition. The Czech Museum of Music is near Helichova tram station (trams 12, 20, 22, 23). But hurry up, the exhibition runs only until April 30!!!