Easter markets in Prague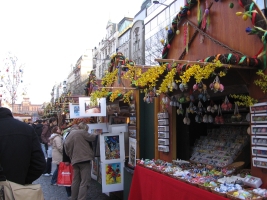 Did you like Christmas markets in Prague? Do you miss them now? Cheer up! You don't have to wait till December. There are markets in streets of Prague again, though not Christmas markets but with Easter motives.
You will not find many differences there – the Christmas tree is only replaced by the birch tree, symbol of spring. No, I am kidding – of course you will find many new things there!
The Prague Easter markets run from March 24 to April 15. You will find them at the same places where there were Christmas markets. But the most beautiful ones, whether Christmas or Easter is not important at this moment, are traditionally at the Old Town Square and Wenceslas Square.
The stands display some typical Czech souvenirs, such as fine hand crafted goods. You can find there wooden toys, crystal glasses, candles or puppets, all manner of food and drink, but also show off some of the nice old customs that make up a traditional Czech Easter!
Czech Easter would not be complete without Easter eggs, in Czech kraslice. There are many Easter egg decorating techniques. Different materials can be used, such as bee's wax, straw, watercolors, onion peels or stickers. There are no limitations to your imagination!
For children, there are creative workshops that they can visit and make their own Easter decorations – paint eggs or make traditional Easter whip, in Czech pomlazka. They can also visit a small zoo and pat little sheep, goats, rabbits and chickens since symbols of Easter in Czech Republic, besides Easter eggs, are baby animals.
For adults or everyone who love to eat there is a special service this year – from 4th to 9th April stands will offer traditional Czech Easter food!! Don't miss that! It will be delicious!
The stands will be open from 9:00 to 19:00 during weekdays and from 9:00 to 20:00 at weekends.