Olympic Games in Prague?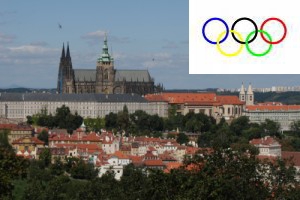 Now it seems more like a wild dream, but the dream is not too far from the truth! Not long time ago, Prague Town Hall approved the proposal that the city seek candidacy as a host of the Summer Olympic Games in 2016! The only thing that separates Prague from being the candidate is sending the applications to the International Olympic Committee. The deadline is in September. The Committee will then announce five contenders, and in 2009 the winner!
How exciting, right? We would have the great opportunity to see all the worlds' best sportsmen and sportswomen right in the centre of Prague! However, is Prague capable of hosting such a massive event?
There are pros and cons, like with any other issue. The improvement of the country's prestige and tourism promotion were named as the biggest advantages. But does Prague really need any more advertisement? If you take a walk through the city centre any time of the day, I would call the streets rather crowded. And now imagine how it would look like during the Olympics! Charles Bridge would collapse!!
Well, maybe I see things too dark. I am only worried where to put all those new tourists and fans. Prague is not inflatable!
Supporters say that Olympic Games in Prague would help build new stadiums, boost Czech sport, raise the publicity of Prague and the whole of the Czech Republic, secure revenues and upgrade local infrastructure. Opponents talk usually about financial problems that hosting the Olympics may bring.
The real outcome we will know only if we try and make the bid! This will mean that the Czech capital will compete with cities like Berlin, Rio de Janeiro, Chicago, Los Angeles, Dilli and Tokio for the honor of hosting the games in 2016!
And if 2016 Olympics are not in Prague, maybe in 2020 they will! Who knows?