WOW! The Black Light Theatre in Prague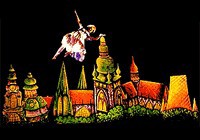 Christmas is coming and you still don't feel the Christmas atmosphere. I have an idea for you. You can feel the magic, mysterious and fabulous atmosphere. Where? In the Black light theatre. What is it? Read on.
The performance with beautiful music composed by one of Hollywood's best composers, performed by the philharmonic orchestra of Los Angeles will capture your heart. Welcome to the world of mermaids, to the world where Nature reveals its power and bunches of flowers dance. Welcome to the world without words. The world which tells you the universal story of a child. The spectators during the performance return back to their childhood and they are forced to gain control of their fear to be able to get to the very end of the spectacle. In this great performance, which combines traditional techniques with modern pyrotechnic effects, the magic of the Black light theatre reaches its peak. The performance is dedicated to people of all ages. At the end you will understand, why it is called WOW.
The Black light theatre origins in China. In those days Chinese used candle light to perform silhouette shows over white cloth screens. Sometime in 18th century the technique of silhouette show migrated to Japan where it began to be used in the traditional Japanese puppet theatre "Bunraku".
At the beginning of cinematography, when cinema techniques were in their infancy, a lot of artists (George Melige among them) used the black light technique to express their images which had in their mind. The modern black theatre origins in 50's, mainly thanks to French avant-garde artist George Lafaille, who is often called "the father of black light theatre". At that time, an ultraviolet lamp was invented and became 'in' in 60's and 70's for "hippies" era, young people, who looked for new colours as a symbol for a term freedom.
At the same time in Prague a new magical theatre language was developed. It means the new kind of theatre providing capabilities and colours which had never been seen before. After the anti-communist revolution in 90's many Czech artists began to promote the black light theatre again. They contributed to its present dignified reputation and declared Prague as the capital of the Black light theatre. Nowadays nine black light theatres are active in Prague. WOW is the youngest of them but it is the biggest and most modern one.
Tickets are available at the websites www.wow-show.cz at the price of 550 CZK (18,3 €). The address is: Theatre Blanik, Vaclavske namesti 56, Prague1.
The Grand Chinese New Year Concert 2008 in Prague Watch your belongings!