Visiting Prague? Maybe Bad Timing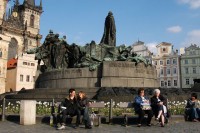 Well, it seems now that all Prague monuments are being reconstructed at the moment. That is great news for all who love Prague and old architecture. However, it is not as good news for those who came to Prague to admire its famous sights.
Take the example of Charles Bridge. It is the number one on every tourist's must-see list. And yet, they find their symbol of Prague under reconstruction. Yes, Yes, I know that it is really needed. The bridge was in a bad shape for way too long. Nevertheless I can picture myself as an eager tourist who has come all the way to Prague and instead of seeing the celebrated Charles Bridge, he or she gets a building site(even when the other half of the bridge is opened).
And Charles Bridge is not the only sightseeing which is now undergoing some rebuilding. The monument of a philosopher and reformer Jan Hus that is placed in the middle of the Old Town Square is also being renovated. Working conditions can be found on Wenceslas Square as well. I have not deciphered what they have actually been working on there.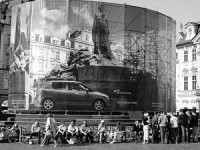 Not to mention other sites like the Memorial at Vitkov or the National Theater where the statues on the roof are in the process of reconstruction as well. In the same condition you may find the Prague's main train station (Hlavni Nadrazi in Czech).
But it is to say that Prague is not only about Charles Bridge, Old Town Square or Wenceslas Square. Prague has so much more to offer.
I admit, though, that if you are in Prague for the first time, you may be disappointed. I would be mad myself. Pictures with scaffoldings are somewhat not as appealing. Nevertheless, all those reconstructions are necessary. We mustn't be selfish. We must preserve the beauty of Prague for other generations as well.