Bambini di Praga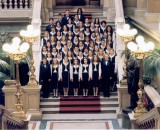 Bambini di Praga was established after WW II. It was a concept of post-war Czechoslovak radio. The official title of the choir was the Children's choir of Czechoslovak Radio, but they were called "Kulincata" (Kulinsky's Children). This choir originated in Ostrava – Hrabuvka in Moravia. Young teacher Bohumil Kulinsky founded his first choir and called it the Hrabuvka singers. It was an excellent choir and in the year of its foundation it won a country-wide anonymous competition of children choirs. It was the competition which was announced by School radio in the then Nazi-occupied Protectorate of Bohemia and Moravia. And so the choirmaster of the victorious choir was invited to the post-war Czechoslovak radio. It happened in September 1945. Since then the children's choir could be heard on waves of Czechoslovak radio for almost 30 years.
It was the successful era. The choir became one of the top bodies of choir art. A lot of Czech musical composers were inspired to create new, most demanding compositions. Many of great singers, actors, musicians, writers and even politicians attended this choir. For instance: Zdena Salivarova-Skvorecka, Marta Vancurova, Jiri Korn, Jana Koubkova, Vera Novakova, Zdenka Lorencova, Petr Janda, Jaroslav Uhlir and our current President Vaclav Klaus.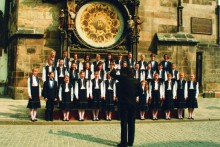 In 1973 co-operation with Czechoslovak radio was suddenly broken off without explanation. They had to left the radio and had no place to practise. But soon an opportunity to practise at a Prague basic school appeared. The school was situated on Lyckovo square in the district of Karlin, where the choir established itself for 29 years, until the floods on August 2002. Since 1973 they were called "Bambini di Praga". In 1977 Bohumil Kulinsky junior took over the choir and became choirmaster. Before it, in 1977, he created the fourth generation of the "Kulincata" – "Bimbi di Praga". In the "Bimbi" there were the most talented and youngest singers. Nowadays the choir Bambini di Praga represents the top of Czech choir singing and is one of the leading representants of Czech musical art abroad.
In the dynasty of the Kulinsky family there is also short episode – Boys' choir of the Prague men's FOK. It was directed by Blanka Kulinska. This male collective was attended by excellent and highly successful musicians and actors like David Koller, Petr Malasek, Jan Censky, Tomas Trapl, Martin Kumzak and Radek Krejci.
The Bambini di Praga choir has been guest on many stages around the world, for example: in Paris, Berlin, Rome, Helsinki, Leipzig, Tokyo, New York, Osaka, Hong Kong, Jerusalem, Monte Carlo, Abu Dhabi, Boston, Johannesburg, Oslo, Seoul, Shanghai, Taipei, and elsewhere.
The members of the Bambini di Praga's concert choir are children from 5 to 12. They studied choral singing, music theory, intonation and rythm and also English language and motion training.
Beer, beer… and another one. Visiting Prague? Maybe Bad Timing