Beer, beer… and another one.
Czech Republic is well-known for beer production as well as beer consumption. Czech people are probably doing even better with the consumption since Czech Republic is the number one nation in the world known for beer consumption.
If you come to Prague, you should try Czech beer. You should experience the great refreshening taste of a golden colour brewed beverage. In Czech Republic you can choose in between draft or bottled beer. Draft beer is always of a very good quality. If you come to a typical Czech pub and indulge yourself into a glass of beer, you will definitely experience friendly atmosphere of the environment.
The best place in Prague to experience "the friendly beer atmosphere" is the restaurant U Fleku. This restaurant offers 13 degree draft beer (rather a strong beer). This beer is prepared according to the traditional brewing process and its taste is incommutable. The brewery U fleků was founded in 1499 and ever since, people came to this place to enjoy the taste of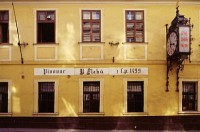 delicious beer as well as Czech cuisine specialties. Beer is a delightful temptation and before you finish your first glass, there will be another one in front of you. While you are smoothly drinking the second glass of beer, waiters will start bringing typical czech herbal spirit Becherovka. If you get hungry by that point, you can order a typical czech dish for very inexpensive prices. The atmosphere of this place is very friendly, and you will get chance to talk to interesting people while sipping your third or fourth beer.
There are other places where you can try the taste of a Czech beer such as Pilsner Urquell or Budweiser Budvar. If you come to Prague, don't forget to try the Czech beer. Your visit would be incomplete without indulging yourself into one glass…