Czech Singer Peter Kolar on Tour 2007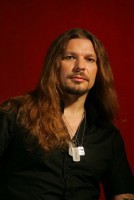 Petr Kolar is one of the most popular singers in the Czech Republic. He is also a holder of a brilliant voice. If you would like to see and hear this charismatic man, you are lucky. On 24th September, he started a tour called "Petr Kolar 40" which is related to his jubilee. This tour will finish on 7th November in Prague.
Petr Kolar on tour to his 40th birthday
His new album called "Without wings" gained the award Gold Album in less than a week. It was released on 24th September, so you can look forward to new songs which they have never heard before, but also to older songs. The songs will be performed as blocks from each period of Petr's production. And so everyone could hear what he/she likes the most.
Slovakian band I.M.T Smile is the guest on the tour. Petr Kolar says, "I feel myself like Czechoslovak, so that's why I addressed these boys. I would like to perform in Slovakia but since the time we have split there have been less possibilities. So I would like to help boys to perform here in the Czech Republic and I hope they will help me in Slovakia."
Petr Kolar was born in Ceske Budejovice. He studied percussion play and began his career after his arrival to Prague in 1993. He started to perform in musicals as Dracula, Hamlet, Ratcatcher, Three musketeers, Galileo, Excalibur and so on. He also performed with bands – Precedens, Arakain, than he cooperated with legendary Karel Svoboda and other famous persons like Lucie Bila, Karel Gott, Peter Dvorsky, Eva Urbanova, Daniel Landa, Daniel Hulka and so on. His best hits are: "Jeste, ze te, lasko mam" or "Den, kdy se vrati laska" (together with Leona Machalkova) it was song for the soap opera "Pojistovna stesti" of TV Nova. In 2005 he left the bands and released his own album called "Album".
If you want to hear romantic rock balads, a lot of hits and a great show, come to Letna in Prague on 7th November. The concert will take place in AC Sparta's basketball hall. Tickets are available at Petr Kolar official website