Dance, dance, dance!
"Dance is your pulse, your heartbeat, your breathing. It's the rhythm of your life. Its the expression in time and movement, in happiness, joy, sadness and envy". ~ Jacques D'Amboise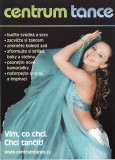 Stop for a moment and think about this quotation. Do you have a feeling that something is missing in your life? Something what would give you energy, positive emotions and euphory? Yes, there are some ways how to make your life more cheerful. One way is dance. Dance is as old as humankind. Dance expresses your feelings, your mood. When you are dancing you are forgetting all troubles and you are only concentrating on your body and rhythm. Have these lines captivated you? So read on.
I recently found the Centre of Dance. It is the biggest dancing-school in the Czech Republic which offers classes of various styles of dance. The main office is in Prague, but this agency has its branches and assembly rooms in the whole Czech Republic. It was established as the Centre of Oriental Dance in 1996 and since 2006 it has been presented as the Centre of Dance. Nowadays more than 3500 dancers attends classes under the direction of almost 90 instructors.
Originaly Oriental Dance was being taught and then flamenco, African dance and Latin dance (Salsa, Samba, Cha Cha, Rumba, Paso Doble, Jive) joined. Teenagers and children are especially interested in Reggaeton, Hip Hop, R'n'B and Modern dance.
Besides ordinary lessons, the Centre of dance arranges seminars with native dancing-masters and with dancing-masters from abroad as well. Also tours with lessons of dance are being arranged. The Centre of Dance is the special guarantee of dance competition Miss Orient and the main organizer of the international dance festival Let's Dance 2006 Prague International Festival, which took place in summer 2006 for the first time.
As mentioned above, the main office office of Centrum Dance (Centrum tance) is in Novakovych 20a street in Prague – Palmovka. You can contact them on telephone number +420 222-719-050 or by e-mail info@centrumtance.cz. For more informations see the websites here.