Do you want to go to the beach in Prague?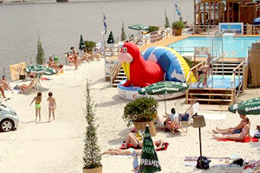 During hot summer days like those we have right now back in Prague (check weather forecast), there is nothing better then to go to the beach. But there is a little problem with that – Czech Republic doesn't have any sea! What to do then?
The solution is quite easy. You don't have to have a sea in order to have a beach. You can visit a beach on the riverbank. And there is such a place in the very heart of Prague!
The 1st Prague beach is not only for sunseekers who want to top up their tans. There is a pretty big, 15×7 meters long, swimming pool that floats in the Vltava River. You can play beach volleyball, badminton or petanque on payment of a small fee. Sunbeds, sunshades as well as the swimming pool are included in price.
The 1st Prague beach on the Vltava River will welcome you with 500 tonnes of imported sand, 236 deckchairs and 1080 cubic meters of a pool water. Of course there is a playground for kids, as well as a restaurant with a bar, where they make a great Mojito.
At the evening serves the 1st Prague beach as a dancing place, live concerts take place here as well. Together with other entertainment, such as special night events called Fire & Coctail Show or Tropical Night and others, is 1st Prague beach the place to party!
The 1st Prague beach is along the west bank of the Vltava River by the Horejsi nabrezi (alongside the Botel Admiral), in between Palackeho and Zeleznicni bridges, just three blocks from the metro station Andel. The beach is open every day till the end of September from 9:30 a.m. For the whole day you pay 59 CZK; students 39 CZK ; kids and seniors 29 CZK.
Enjoy yourselves and stay cool in hot days!
Music in the park festival in Prague Stromovka park Summer sales at the biggest mall in Prague