Ruzyne Airport Celebrates Birthday
Do you want to visit an exhibition? Then visit the Prague Airport Ruzyne. Do you think I am joking? Exhibition at the airport? It is true that most common place for exhibitions is a gallery or a museum, but this exhibition is special. It celebrates the 70th birthday of Prague Airport.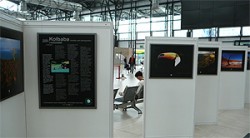 70 years have already passed since the first planes landed and took off at Prague Ruzyne Airport. How many passengers might have checked in and out over the time? That is probably impossible to count. It is to say that Prague Airport is the second biggest airport in Central and Eastern Europe.
With this exhibition you have a chance to travel the world although not leaving the building. On more than 200 large colorful photos by Czech traveler and photographer Jiri Kolbaba you will see the beauty of all continents and will "visit" about 120 countries.
The photos are displayed all around the airport so that not only passengers can admire them. You do not have to be actually departing, arriving or picking up friends to be able to visit this exhibition. The exhibition is for everyone and it is for free.
So celebrate the wonderful anniversary together with Prague Ruzyne Airport and enjoy the truly marvelous photos. The exhibition is held till August 26.
You can get to the airport from subway station Zlicin (yellow line B) by taking bus number 100. It is about 15 minutes ride with the bus. Or you can travel from subway station Dejvicka (green line A) and take bus number 119 which is there in about 20 minutes.