Adventure in Divoka Sarka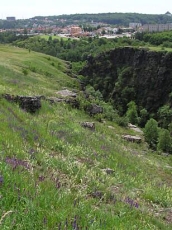 Prague is unique, among others, also by the fact that directly in the city a couple of natural locations are preserved. To one of these belongs Divoka Sarka (Wild Sarka). If you want to get to this western reminding county, go to the terminal mentro station on route A – Dejvicka. From this stations take a tram along the Evropska street up to the station Divoka Sarka. Then go straight from the station by the red tourist mark and you will get directly into the bottom of the Sarka valley.
Sarka has probably got this romantic name from the czech word sery – which means dark, deep…and the valley around the Sarka´s stream is really such a dark, somewhere frightening place. The valley is very narrow which originates in the long lasting water stream activity. If you continue by the stream flow, you will see two rocks on the left side. This location was settled already in the stone period.
Now we get to the small swimming pool and you can leave now the red tourist mark, walk across the stream and set out around the high rock ridge called Girl´s Jump. This place is famous for its well known Czech legend about Sarka and Ctirad. Treacherous girl Sarka, which was leading the girl war, followed Ctirad to this place but then betrayed him. She was later pursued by the reproaches, so she decided to jump from this rock and come her young life to an end.
We will continue further to the romantic building of a red mill. After several metres we get to a tent camp and follow the red tourist mark again, which will lead us to the valley pool, where is very nice and clear bathing. But be careful, the water is here very cold even during the hottest days. Refreshed with pleasant swimming we can walk to the tram, which goes back to the centre.
If you try this journey, which is not very difficult, you will walk about 6 kilometres. But in Sarka you can walk a lot more kilometres, or ride a bike. Maybe you will meet a western cowboy on a horse. This place really reminds the wild west and is popular for various western actions and entertainment.