John Lennon in Prague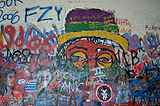 This is no joke – John Lennon is in Prague – well, to be precise, his wall is in Prague although John Lennon himself never visited Prague in his short life. Are you confused? Let me explain it to you then.
In Mala Strana, near the French Embassy, you'll see the John Lennon Wall. The wall that was formerly an ordinary wall in Prague has been called Lennon´s since the 1980s, when people have filled it with John Lennon-inspired graffiti and pieces of lyrics from Beatles songs. Why? (read more)
1 Comments for John Lennon in Prague
This is a comment on the whole blog, not this entry. PLEASE GET AN RSS FEED!!!