Tips on unique Czech Food
Food is an important part of any national identity. And as you are in Prague admiring Czech monuments, learning about Czech history and meeting Czech people, why not to try Czech cuisine as well! It will be certainly more or less different from what you are used to from your mom's cooking, but travelling is about experiencing new things! So why not to experience something that is pleasing your stomach? Eating is fun thing to do as it is!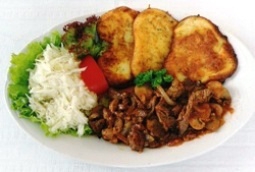 So what is typical for Czech food? Probably the most noticeable thing is that lunch is the main meal of the day in the Czech Republic. That is also why in restaurants food can be found for better price during lunch time (cca. from 11:30 a.m. to 2:30 p.m.) where you can have lunch with drink for less then 100 CZK – this of course doesn't apply to restaurants right in the centre of Prague. Lunch consists of soup, main dish and sweet dessert or salad. Supper can be cold or warm, and it is less substantial than lunch.
For Czechs, soup is a starter. Try chicken soup with noodles and vegetables, garlic soup with fried bread, potato soup with mushrooms or beef soup with liver dumplings, which is commonly served on Czech wedding feasts.
The main course usually consists of meat and a side dish. Most dishes are pork, or beef, mainly served with some kind of sauce. The most popular is chicken, but fresh-water fish (especially carp – traditionally served on Christmas Eve, and trout), or duck are common, too.
Potatoes are very popular as a side dish, served in various ways – boiled, roasted, mashed, fried, small potato balls called croquettes and so on. Dumplings are the most common side dish in traditional Czech cuisine. There are two types of dumplings – bread or potato dumplings made of either wheat or potato flour that is boiled as a roll of dough, then cut into slices.
There's a sweet version of dumplings, called Ovocne knedliky in Czech, meaning fruits dumpling. They can be filled with strawberries, blueberries, apricots or plums served with chocolate or sweet cottage. And yes, it is a main dish!! Very delicious one! Especially kids love it!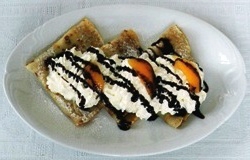 To name some traditional Czech main dishes – Roast pork with dumplings and sauerkraut; Fruit filled dumplings; Svickova – which is pork meat with dumplings and gravy, topped of with cranberry jam and cream; Chicken fried in breadcrumbs which is similar to a Wiener Schnitzel, usually served with boiled potatoes.
I would personally recommend you Smazeny syr (breadcrumbed cheese or fried cheese in English), which can be also recommended to carnivorous travellers, because it's really tasty and filling. It is without any doubt the most famous meatless food in the Czech republic (fruit filled dumplings are number two). It is not only appetising but for a good price too.
And don't forget to try some Czech dessert! One of the most popular Czech desserts is palacinka – a pancake – they are thin and come in several variations involving fruits, jams, cinnamon with sugar, chocolate sauce and others.
So, as Czechs say before any meal: "Dobrou chut!" which can be translated as: "I wish you to enjoy your meal!".
Read also about the traditional meals in the Czech Republic in Eat & Drink Section.
Don Giovanni in Prague Estates Theatre is a must Second Christmas!