Don Giovanni in Prague Estates Theatre is a must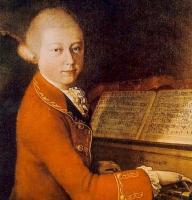 Being in Prague and not see Don Giovanni is like being in Paris but not up the Eiffel Tower! If you are a fan, it is a thing of life and death. Do you think I am exaggerating? Not at all. Don Giovanni performed some place else but Prague's Estates Theatre is a totally different show!
Prague's Estates Theatre is the authentic theatre that Wolfgang Amadeus Mozart chose to premiere Don Giovanni, on October 29, 1787, also conducted by Mozart himself! Prague audience loved it and so it has been played ever since. Don Giovanni has become a traditional opera and means a climax of the cultural life in Prague.
I have seen it twice and even my American friend that is not really an opera-lover liked it and said he wants to see it again!
Don Giovanni is one of the most famous operas of all time. In Prague you can experience the atmosphere of seeing the "opera of all operas" in the theater where it all started. The Estates Theatre is one of the most beautiful and historic playhouses in Europe, built at the end of the 18th century. The Czech anthem was first performed here as a part of a comic opera Fidlovacka.
The Estates Theater will be forever linked with the great composer Wolfgang Amadeus Mozart who chose this stage to premiere not only thrilling Don Giovanni, but another of his best-known operas: La Clemenza di Tito, in 1791. A statue in front of the Theater called "Commendatore" or "Pieta" serves as a reminder that the Mozart's Don Giovanni had its grand opening here.
The nearest Don Giovanni performance is on 15th February 2007. Starting at 7 p.m. at the Estates Theater, located at Ovocny trh 1, Prague 1, about 5 minutes walk from subway station Mustek (line A and B). Price is from 390 CZK higher, depending where you want to be seated. If you have your student ID with you, don't forget to show it when buying the ticket. You may get a discount up to 50 per cent for it!
You might have seen the beautiful blue-velvet interior in Milos Forman's movie Amadeus, which was about the life of the music genius.
Don't tease the pickpockets in Prague! Tips on unique Czech Food