Don't tease the pickpockets in Prague!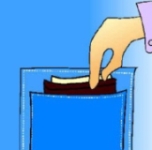 Prague is the capital city and at the same time the biggest city in the Czech Republic. Because of its beauty and magic it attracts thousands of tourists every year. Impressed tourists, however, tend to pay more attention to the historical buildings and forget all about their belongings. It is therefore no wonder that Prague is attractive not only for tourists but also for pickpockets! That is why you should always think of your bags and purses at all times!
Try not to tease the pickpockets! What do I mean by that? First of all, don't walk around carrying a bigger financial amount. Secondly, don't have your wallet within grasp for others. And always keep and eye on your handbags. Try to avoid crowds if possible. But if you find yourself in a crowd, hold your handbag to impede its opening or snatching. Don't be an easy victim for them!
You should be more careful in the streets near tourist attractions and in crowded public transportation – notorious are trams number 22, 23 and 9. And never change money on the street since you will probably get ripped off.
So, to sum up – anytime you see a crowd put a hand over your bag and hold it a bit tighter or have your bag where you can see it all the time. For example, when I am in a crowded tram or subway, I wear my backpack on my stomach.
So don't let the pickpockets spoil your vacation and be more careful! You never know when you may come across those people. But if you are wise enough they will have no chance!
Czech Santa Don Giovanni in Prague Estates Theatre is a must