Great Season for Visiting Museums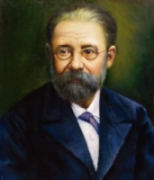 When it gets cold and windy outside or when it rains or snows, which happens a lot in winter, the best is to slide into a café for a hot tea or coffee and wait till the weather gets better. Or, in order not to waste the whole day, you can visit a museum! There are tons of them in Prague! For example there are two museums of music in Prague! And that is only what I know of!
Why do you think there is more than one museum of music in Prague? It is because Czechs love music. There is an old saying from the 16th or 17th century which goes like this: Every Czech is also a musician. And it is more or less valid till today. Almost every Czech can play some musical instrument because Czech children often attend musical courses after school. Maybe some of them will become composers of such fame as Bedrich Smetana, Antonin Dvorak or Leos Janacek.
The Czech Museum of Music, which is open from Wednesday to Monday from 10 am to 6 pm, presents not only a large collection of musical instruments, but also other valuable sources illustrating the history of Czech and European music. You can listen to the historical instruments in nearby headphones. Concerts are often held here as well.
The location of the Czech Museum of Music is in the former Baroque church of St. Maria Magdalena, in Karmelitska Street 2, built in 17th century. If nothing else, the renovated building is worth seeing. You can reach it when taking tram 12, 20, 22 or 23 to the station Helichova. It is not far from the Charles Bridge.
The Museum of Mechanical Musical Instruments, which is on Hradcanske Square 12, is near the Prague Castle. They present a unique collection of the orchestrions, street organs, gramophones, music boxes and more rarities from 1870 to 1940. The exposition is accompanied with the demonstration of the instruments. This museum is open daily from 9 am to 6 pm.
End to Unpleasant Aspects of Prague? Do you know Czech National Anthem?