Old Town Square and Christmas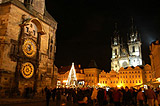 From the end of November until Christmas, the city of Prague comes alive with beautiful decorations, the sounds of traditional music, and the mouth-watering aromas of hot wine (svarak) and delicious local food!
The most impressive Christmas atmosphere is without any doubt on the Old Town Square! The square is dominated by a beautiful Christmas tree (of course it is real) jeweled with hundreds of lights that are lit every evening at dusk, which is usually about 5pm. As it is set against a gothic skyline, it is a spectacular sight!
On the Old Town Square there is also the most beautiful Christmas market in Prague. Hand-made gifts and traditional Czech food and warm drinks are sold there. The whole atmosphere is accompanied by live Christmas concerts since a stage is erected on the Old Town Square every year. You may hear local or international choirs along with musical ensembles singing Christmas carols on open air. Wait till you see it! Now that is a holiday spirit!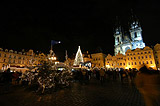 In Prague's Old Town Square there is also a mini zoo. Children can enjoy pony rides and pat sheep, goats and even a lama! Next to this is a Bethlehem manger scene – a large wooden stable with a straw floor shows Mary, Joseph, baby Jesus and the three kings.
Christmas in Prague is simply wonderful
Prague Christmas Markets What can you find on Christmas markets in Prague?