Chinese painting exhibition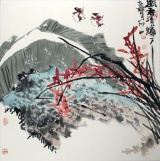 Exhibition called simply Chinese Painting can be seen until 28th of November in Prague Rudolfinum Gallery. The exhibition, curated by Czech curator Petr Nedoma and his collegue from Hongkong, Chang Tshong-zung, presents three Chinese painters of middle generation, who today are probably the most famous, recognized and important painters of this country. They are Zhang Xiaogang, Fang Lijun and Feng Mengbo. Old European painting techniques of oil or tempera on canvases are quite new in China, so it is interesting to see, how those authors deal with this medium.
Zhang Xiaogang (1956) is mostly occupied with a topic of contemporary Chinese family in his work. His anxious big canvases are done mostly in shades of gray, with a specific use of red color for particular important parts of the pictures.
Fang Lijun (1963) is one of the leading representatives of something, which is called "cynical realism". His big canvases are full of vibrant colors.
The most interesting painter of the three is Feng Mengbo (1966) who makes his work not only on canvases but also makes computer-generated video sequences, and an example of this part of his work is also shown in the exhibition. But he is interesting mainly for his huge and monumental canvases, either with flying birds and insect depicted on them or the newest series of landscapes, in a way continuing in a long tradition of Chinese landscape painting.
Chinese painting is still not that well-known here in the Czech Republic, so it may be interesting to see at least its most famous representatives, although it might have been better and more educative if there would be presented more authors on the exhibition, not just those three. But if you are into Art, you should not miss this exhibition. It is interesting to see how Chinese painting varies from the European or Americans ones, on which we are used to here.
Rudolfinum Gallery is situated in representative 19th century Rudolfinum building, situated on Jana Palacha Square, but the entrance to the gallery is from Alsovo Nabrezi Street, number 12. Opening hours are from 10 am to 6 pm daily, except Mondays.
Munich Agreement 1938 (Part Two) Fire at Vystaviste - Prague exhibition ground