Designblok 2008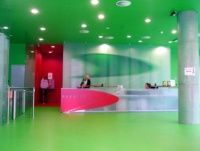 If you are really interested in design, you definitely should not miss out Designblok, the most important event dedicated to contemporary design, which takes place in the Czech Republic's capital Prague. This year already for the 10th time, and this time under the subtitle "Celebration".
Desingblock aims to present mainly Czech designers and companies, but also doesn't forget on subjects from abroad. Opening ceremony is on Monday evening, 6th of October, and then you can enjoy the week full of design, until Sunday, 12th of October.
The most imporatnt places of this year's Designblok are two so-called Superstudios, one of them, Superstudio Corso is in Karlin, in Krizikova Street number 38, very close to metro station Krizikova (yellow/B line), second one, Superstidio Dox is in Prague 7, in Poupetova Street, number 1a. Here are taking place opening and closing ceremonies and here are exibited things which are regarded as the most interesting. Both Superstudios are opened from 10 a.m. to 9 p.m. Here you can buy the entrance ticket, which costs 150 Czk or 100 Czk, for students, kids under 15 years are for free. The ticket will allow you to enter both Superstudios repeatedly.
But many other events can be also seen in another places, mainly in the city centre, there are prepared interesting showrooms, fashion shows…
More information about this year's Designblok can be found on the official website of the project: http://www.designblok.cz/en There is program of the whole Designblock, what happens each day, where is exhibited what…
Berlin The Czech EU Presidency is Coming: The Government Starts a Media Campaign