Christopher Dresser – Pioneer of Modern Design – an exhibition in the Museum of Decorative Arts in Prague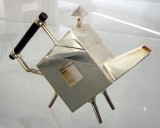 On 10th of April started an interesting exhibition in the Museum of Decorative Arts in Prague. It presents the choice of work of Christopher Dresser, the very important persona of design history. This man is often considered as the first significant designer at all. In the second half of the 19th century, there was a broad movement, which aimed to raise the aesthetic standard of objects that surround people in their everyday life. Those aesthetic standards were considered to be low, mainly because of the industrial production. That is why many participants of this movement tried to return to handiwork and old style of manufactures. On the other hand, Christopher Dresser fully accepted the industrial devices and modern manufacturing methods and he was designing objects that were then manufactured in modern ways. That is why is considered as a "pioneer of modern design" as says the subtitle of the exhibition. His significant designs of metal teapots, soup tureens, toasts racks and other objects became very famous and his "handwrite" is easy to be recognized here. But he did not design only metal objects, but also pottery as well as furniture or wallpapers.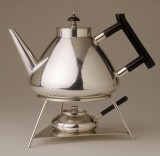 Dresser was also very interested in botany and in investigating botanical natural laws, which then reflected in his work. And what is very important, he visited Japan. Japan was a country, which was for the long time completely closed to Europeans. When it finally opened its boarders, its culture was extremely fascinating and inspiring for Europeans. Dresser came here for few months, was welcomed by the emperor himself, and studied here Japanese Art and culture and was also an advisor in the questions of modern trade. Then there obviously was a strong Japanese influence to be found in his work, some of his designs even were direct copies of Japanese originals.
The current exhibition in the Museum of Decorative Arts in Prague is focused mainly on presenting smaller metal objects – table implements, which are designer´s most famous works. In them, he achieved a purity of shape so they are until now recognized as timeless symbols of modern design. And so if you have a bit deeper interest in design, this is something you should not miss out.
The exhibition is opened until 8th of June. The museum´s opening hours are from 10 am to 6 pm from Wednesday to Sunday and until 7 pm on Tuesdays, closed on Mondays. The museum is best accessible from Staromestka public transport stop – metro A line, trams 17 and 18 or bus number 133.