Gregory Crewdson – photographic exhibition in Rudolfinum
From 20th of March until 25th of May 2008 the Gallery Rudolfinum presents a comprehensive overview of the famous American photographer Gregory Crewdson prepared by the curator Stephan Berg.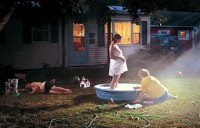 Crewdson´s photographic work deals with American neuroses, fears and secret desires. His images refers directly to the myths of American Hollywood movies, so as well as scenes for those movies were scenes for those images, as well as make-ups for models prepared in a cooperation of a whole big crew. The crew had over 100 members and before the picture was shot, it took the long time of preparation. One of Crewdson´s favorite film directors is David Lynch, and as well as Lynch´s movies often have dreary and mysterious atmosphere, the similar atmosphere have a lot of photographs presented on the exhibition.
The exhibition presents all Crewdson´s most important photographic series he made since 1992 until presents, all of them are in large format and in color, except one, which is black and white and in smaller format. Plus there is a special collection of 11 small size photos, took during the work on "big ones", primarily as a documentary material, but according to Crewdson those he chose have an aesthetic quality on their own and as such are worth to be exhibited.
If you want to see extremely precise photographs, where every bit of the photo is perfectly sharp, with perfect lightings, arrangement of the scenery and so on, you should visit the Rudolfinum Gallery these days. The Rudolfinum is located on Jana Palacha Square, close to Malostranska and Staromestska metro stations.