What to see in the National Theatre in Prague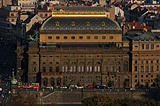 The National Theatre in Prague has three artistic divisions – Ballet, Opera and Drama. As dramas featured here are in Czech language, for those who cannot speak Czech would be interesting just Opera and Ballet, but anyway in those two fields the theatre has a lot to offer.
Operas are sung mostly in Italian and are accompanied with both Czech and English subtitles. This season you can visit Giuseppe Verdi´s La Traviata and Aida, Vincenzo Bellini´s Norma or Camille Saint-Saens´ Samson and Dalila, Giacomo Puccini´s Lafanciulla sel West (The girl from the West) and Tosca or very popular Georges Bizet´s Carmen. If you want to see something by Czech authors, there is Bedrich Smetana´s Hubicka (The Kiss), Čert a Káča (The Devil and Kate), Tajemstvi (The Secret) and famous Rusalka, but there is also Bohuslav Martinu´s Recke pasije (The Greek Passion) or contemporary piece Dobre placena prochazka (A walk worthwhile) by Jiri Suchy and Jiri Slitr.
Another scene of the National Theatre is the Estates Theatre. On this stage are featured four pieces by Wolfgang Amadeus Mozart´s – La Clemenza di Tito, Don Giovanni, La nozze di Figaro (The marriage of Figaro) and The Magic Flute and also Gaetano Donizetti´s Don Pasquale.
And what you can see if you prefer the Ballet? In the building of the National Theatre: Adolphe Charles Adam´s Giselle, Sergej Prokofjev Romeo and Juliet or Onegin, Pert Iijic Tchaikovski´s Louskacek (The nutcracker) or project Solo pro tri (Solo for three) – dancing on music by a Frenchman Brel, a Russian Vysockij and a Czech Kryl and the project called Ceska baletni symfonie (The Czech ballet symphony).
On the stage of the Estates Theatre are featured Petr Iljic Tchaikovski´s Sipkova Ruzenka (Sleeping Beauty) and Zlatovlaska (Goldilocks) by a Czech contemporary author Vladimir Franz.
Both of the buildings are very nice, performances are well prepared, done by the best Czech and sometimes even world dancers and singers, prepared by great directors, choreographers and so on. Also the musicians and they conductors who are taking care about the music during the piece are very skilled. So if you like Opera or Ballet, it is worth to visit the National Theatre, as it can be a great cultural experience, and a way how to spent a pleasant evening.
Emergence of Photography Exhibition of contemporary Czech painting: Resetting – Alternative ways to objectivity