Exhibition of contemporary Czech painting: Resetting – Alternative ways to objectivity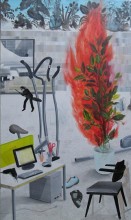 If you want to see some works of contemporary Czech young and successful painters, I would recommend you to visit the exhibition, which is now held in The City Gallery Prague in exhibition spaces of the Municipal Library.
The exhibition presents works of young Czech painters most of whom were born in the 1970s and they are relatively well-know in the Czech Republic, at least among those who are interested in contemporary Art. So you can see here what is going on in contemporary Czech painting scene. Among the artists who exhibit here are Jakub Hosek, who was already twice nominated for prestigious Chalupecky prize for young Czech artists, Petr Malina with his self-portraits, Jakub Spanhel, who became famous for his dark and sizable acryls, Josef Bolf, Petr Petrbok, Filip Cerny and many others, there are almost 30 of them. Some of the paintings exhibited here are small, other ones are huge, there are also represented different artistic techniques – from oils and acryls through wax with ink to various mixed media. The theme, with connects they works together is simple "objectivity", means that subjects of their paintings are not abstract ideas, but concrete things from our visible world. It can be people, still-lives, houses, cars, even benches or pills, whatever. Some of them prefer to depict it in realistic colors, others in fantastic ones or even just in black and white, there are no limits, there are many "alternative ways to objectivity".
Some of the paintings are pretty original, some of them are at least funny, some of them are ugly and boring, but as a whole the exhibition is quite nice. It is a proof that although in the Art world today there are very popular new media, use of video and computers and so on, the conventional old painting still lives on.
The gallery is situated in the building of the Municipal Library, on Marianske Square, but the entrance to the gallery is from Valentinska Street, it is not far from Staromestka metro station (green line). They are open from Thursday to Sunday, always from 10 AM to 6 PM. And exhibition is to be here until 23rd of March 2008.