Famous Prague people - Milos Forman, Madeleine Albright, Alfons Mucha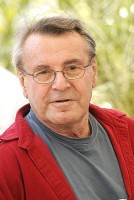 Almost every film lover knows the world-famous director Milos Forman, but when I told my American friend that Forman comes from Czechoslovakia, he was quite surprised. The director of One Flew Over the Cuckoo´s Nest, Hair, Man on the Moon, Amadeus, The People versus Larry Flynt or most recently Goya´s Ghosts was born in Caslav but studied in Prague at the famous FAMU film school, then he made some successful films, of which Loves of the Blonde and The Fireman´s Ball were nominated for prestigious Oscar – American Film Academy Award. At the time when Prauge was invaded by USSR and Warsaw pact allies to end the Prauge Spring, he was in Paris and decided not go back to occupied country. He went to the U.S. and made there the jewels of world cinematography.
And did you know that Madeleine Albright, who was the first woman to become United States Secretary of State was born in Prague in 1937 as Marie Jana Korbelova? She was raised as a Roman Catholic by her Jewish parents, who converted to Christianity in order to avoid persecution. Her father was a diplomat and during the war they survived because being in London, but three of Madelaine´s grandparents died in concentration camps. In 1948, when Communists took rule over Czechoslovakia, the family decided to leave the country for good. So 11 years old Madeleine found herself in the U.S., in 1957, aged 20, she became the citizen and started to work on her political career.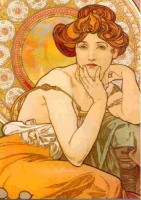 Art lovers probably know Alfons Mucha, a very famous Art Noveau painter after whom is secession sometimes known also as "the Mucha style". He was born in 1860 in small town Ivancice, close to Brno in Moravia, and later lived in Vienna and especially Paris, where he became famous for his advertising posters with famous theatrical actress Sarah Bernhard, and magazine illustrations. But later he came back to his homeland and settled in Prague. After the First World War, when Czechoslovakia got its political independence, he designed banknotes and post stamps for the new Republic. He painted the Slav Epic, a series of paintings celebrating Slavic People and designed a window for Saint Vitus Cathedral. In 1939, when Nazis took over Czechoslovakia, he was arrested by Gestapo to be interrogated for his anti-German opinions, and even he was soon released, he did not recovered from the damages caused by interrogations and died the same year. He is buried in the Slavin cemetery in Vysehrad. The name of the cemetery "Slavin" is derived from "slava" which can be translated as "fame" or "glory". This cemetery was established in 1869 to be the place of final rest for the most prominent Czech artists, scientists and politics and public life.
Beside Alfons Mucha, there are also graves of painters Mikulas Ales, Max Svabinsky or Antonin Chitussi, football player Josef Bican, writers Josef Capek, Karel Hynek Macha or Jan Neruda, opera singer Emma Destinova, or composers Antonin Dvorak and Bedrich Smetana. In Paris, they have Cimetiere du Pere Lachaise, in Prague, there is, obviously much smaller, but also interesting Slavin.