The fastest brass band in Prague
The fastest brass band is comming back to Europe. While the Central European brass bands are in modern times a little old-fashioned for young people, on the East of Europe this genre is a symbol of temperament and colours.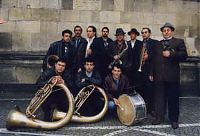 Balkan brass bands play in brathtaking tempo, their music is full of wine and home-made raki and Gypsy feeling – and there is still more to discover. When the enslavement of Romania's Gypsies ended in 1864, thousands of them moved the USA where settled in the black ghettoes. Who dares to say that our cousins didn't help to invent jazz in America? Says Ioan, the oldes member of Fanfare. Fanfare Ciocarla gained BBC World Music Award in 2006.
The fastest brass band in the world Fanfare Ciocarlia (130 to 200 bpm) from the village Zece Prejani situated on the Rumanian-Moldavian border is one of the Balkan gypsy brass bands. Their music reflects gypsy, Turkish, Rumanian and klezmer influences.
Their popularity increasing with each new CD is documented by crowded concerts hals not only Berlin, Prague, Tokyo or New York, but Bucurest itself.
If you want to hear some brass or Roma music in Prague, this is a concert for you! Fanfare Ciocarlia / Romania 14th January 2008, 19:00. Tickets: pre-sale 400 CZK Palac Akropolis, Kubelikova 27, Prague 3
Prague Between the World Wars The Revealed – Gorillas in Prague Zoo