The Prague Museum of Art and Industry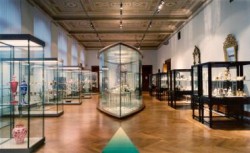 If you are tempted by the combination of history with practicality or art with craft, if you want to adapt to how our ancestors have been living in real life, what they have been clothing, decorating, dining and globally to get know what was their lifestyle like, don´t forget to visit The Museum Of Art and Industry (Umeleckoprumyslove muzeum). Is it not usually the main tourist destination, but it is a shame. Although it is situated in very attractive location, it is shadowed by its neighbours. The Museum resides in the street of 17th November, only several metres from the station Staromestska. Right over the way we can find the jewel of new renesasaince architecture – Rudolfinum, besides stands the building of Charles University philosophic faculty. The Old Town Square is also couple of steps away.
You can only turn off a little from classic sightseeing tours and dive into the history of ordinary life, which can be seen everywhere in the museum. The museum was founded in 1885, its seat was first in Rudolfinum and later a new building in the style of italian renessaince was built. First expositions were opened in 1900.
In these days the exposition is divided into two parts, mainly the permanent exhibitions, where we can admire the history of glass, textile, print, jewels and clocks. The other parts contain the exhibitions with varied scale. In the past we could see for example the exhibition of Scandinavian design or history of sport dresses. The current exhibitions in the musem are the photographs of Jan Lukas, Czech Glass of the Second World War era, the work of Alfons Mucha and many others.
The other unique of the museum is the library, which contains more than 160,000 books about art, its history and using. It is allowed to study these books only in the library. Other part of the museum is a coffee bar, where also sometimes small artistic presentations or courses are held. Near some of the exhibits you can find the symbol of a hand. It means that these objects are included in the system called "Touch your musem". You can touch this thing and even try how it was used. Of course this contains only the objects which cannot be destroyed by the contacts of the visitors. Come to see that in this museum you can spend quite pleasant and didactic afternoon !
Sculptures in Streets of Prague Open Air Cinema Strelecky ostrov