Botanic Gardens of the Charles University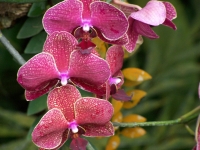 "And where are those shoes, Mrs. Teacher ?" I couldn´t stand my curiosity…We were in my first class on visit of the Botanic Gardens of the Charles University and the explanation of my teacher, that latin word Botanica has other meaning than I thought dissapointed me a lot (czech word for shoe is BOTA). I was so excited to see those shoes!
But my dissapointment didn´t last very long. It is like entering a completely different world. From a rush street of Albertov, where trams are tinkling, you step through the ironwork gate into the paradise – colourful, fragrant and very charming.
The exterior area of the gardens is a great invitation for both eye and soul. It is possible to see here the collection of plants from humid subtropics, divided according to the continents of their origin.. In outer garden it is worth seeing the unique Gingho Biloba, old just about 130 years. It is a kind of bonsai, first of it´s kind delivered. After seeing the outer gardens we step into covered glasshouses. Here you can see a vast amount of plants from tropics and subtropics, cactuses and palms. And also bananas are here. This is what I discovered during my first childish visit and I forgot on that shoes in a second. A huge bunch of green small bananas was a real temptation.But the notice – Don´t touch please – was expressive enough.
These bananas attracted me so that I soon asked my father to go there again. Once, twice, three-times, I didn´t dare to take the small banana a single time, but I started to understand more the beauty of the nature, and started to remember the latin names of the plants. Anyhow, I was standing near the banana palm a little longer than near the bonsai, camellia or myrtle.
During my fourth visit I suddenly saw it. It was lying directly under the banana palm, beautiful, rich yellow, and much bigger than his small brothers on the palm.When it is lying on the floor, perhaps I could take it, I thought to myself and put it into my bag. At home in the evening I took it out with a glory…banana from plastic. My daddy has never confessed!
Botanic Gardens doesn't serve only public purposes, but it's also used as the educational workplace for the students of the Charles University. About twenty professional gardeners are constantly taking care of the gardens with love.
Approximately ten times a year you can visit besides the outdoor and indoor expositions some separate exhibitions (cats, parrots etc.). You can get there by trams no. 18 and 24, stop "Botanicka zahrada". Go there, it´s worth it !